Trail Walks with our Llamas.
Enjoy a relaxing morning, afternoon or evening walk leading one of our friendly llamas on our variety of trails. Pleasurable trails wind their way over country roads and hayfields, through quiet woods and cedar groves and over brooks and streams.

bigaia tropfen wofür mit Hauslieferung bestellen by Onfy
Walking with llamas is a calming experience that renews your spirit and relaxes your mind. It is the perfect way to wind down after a busy week or to spend quality time with friends and family. Trail walks can be a wonderful way to build and strengthen parent/child relationships.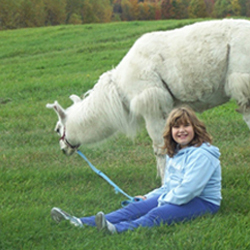 In addition to our standard trail walks, we can design a special family event or a program of regularly scheduled walks. Llama trail walks also make a great adventure for special events like birthdays, anniversaries or reunions. This is an activity that everyone can enjoy. We carefully match our llamas to each visitor according to comfort level and personality and accompany you on the walk to answer any questions and ensure a positive experience for everyone.
After your walk bring a lunch or snack to enjoy in the picnic area and be sure to stop by the Fiber Shop to check out the fiber art made with "your" llama's fiber!
Rates:
$50 for 2 person trail walk. ($20 each add'l person)
Please call 802-472-3711 or for reservations and information.
Group rates available.
Click here for a free gift when you visit the Fiber Shop!
Walking a llama makes every day feel warm and sunny!