Agape Hill Farm's Mission Statement:
Agape Hill Farm will be an adventure for everyone. Families, school classes and other groups will enjoy a relaxing, fun and educational experience. Individuals with a variety of special needs will find new paths of self-discovery building confidence, becoming more comfortable with the world and experiencing the joy of accomplishment. Wherever a person is in their life journey when they arrive at Agape Hill Farm, they will leave one step closer to becoming the person that the Author of agape love designed them to be.
What on earth does "Agape" mean?
The word "agape", pronounced "ah-GaH-pay", (hear it pronounced) is one of several Greek words for love.
Rather than brotherly or romantic love, agape love is the kind that is self-sacrificing. It is an expression of grace and is not dependant upon the appearance or actions of the person receiving it. You don't earn agape love--it is a gift. The only perfect illustration of agape love is God's love for us. Agape Hill Farm is a gift of grace from God and we are blessed to be able to share that gift with you.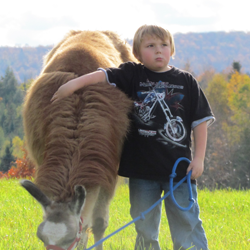 Words of Inspiration
What is Agape Love?
Love is patient, love is kind. It does not envy, it does not boast, it is not proud. It is not rude, it is not self-seeking, it is not easily angered, it keeps no record of wrongs. Love does not delight in evil but rejoices with the truth. It always protects, always trusts, always hopes, always perseveres. Love never fails.
I Cor. 1:4-8a: (NIV)
If God gives such attention to the appearance of wildflowers—most of which are never even seen—don't you think he'll attend to you, take pride in you, do his best for you?
What I'm trying to do here is to get you to relax, to not be so preoccupied with getting, so you can respond to God's giving. People who don't know God and the way he works fuss over these things, but you know both God and how he works. Steep your life in God-reality, God-initiative, God-provisions. Don't worry about missing out. You'll find all your everyday human concerns will be met.
Give your entire attention to what God is doing right now, and don't get worked up about what may or may not happen tomorrow. God will help you deal with whatever hard things come up when the time comes.